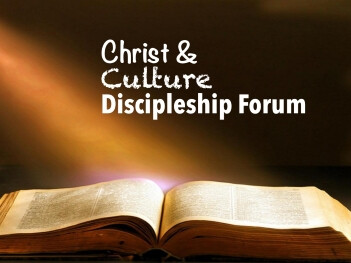 "The Pursuit of Happiness"
A critical look at the influence of history on our culture's definition of happiness, and what it really means according to Jesus and the Bible.
January 2023
______________________________________________________________
The Adult Discipleship Ministry Team sponsors this forum each year to help equip God's people for the work of
ministry in an ever-changing cultural landscape.
In the wake of two World Wars and the atrocities never seen before in the modern era, centuries old Christian beliefs were challenged. 20th Century philosophers, psychologists, and politicians questioned many fundamental biblical values. They protested truths such as the existence of God, the origin of man, and the purpose of humanity. Carpe Diem (Seize the Day) replaced Coram Deo (Before the Face of God) as the motto for a new generation. Happiness and its pursuit at all costs has become the order of the day.
Christians are being deceived into believing a twisted version of who God made us to be. The pursuit of happiness for its own sake has crept into all our hearts.
The Church needs to pay attention to the cultural forces that have created well-intended ideas, false narratives, and deceptive lies. Join us for a discussion based in biblical truth and love to expose the fallacy of "happiness." We need these tools so that we as Christians can give a thoughtful response.
Our goal is to equip disciples with Gospel love, grit, and biblical truth to be able to identify, engage, and dismantle false ideologies with Truth to fortify our church and rescue victims on the battlefield of this philosophical war.
_____________________________________________________
Schedule
| | | | |
| --- | --- | --- | --- |
| Date | Time | Type | Speaker and Title |
| January 4, 2023 | 6:00 - 7:30PM | Speaker | Mrs. Jen Oshman |
| January 11, 2023 | 6:00 - 7:30PM | Speaker | Dr. Bill Brown |
| January 18, 2023 | 6:00 - 7:30PM | Speaker | Dr. Brian Mattson |
| January 25, 2023 | 6:00 - 7:30PM | Panel Discussion | TBD |
Each session will be hosted in King Hall at First Presbyterian Church, Rome, GA. Student Ministries will host this forum in a modified format specifically for our junior & senior high students at The Crossing during the same times listed above.
*A special 'thank you' to Mrs. Nell and Mrs. Andrea and their staff/volunteers! Our programs on these 4 Wednesday nights will begin earlier and run a bit later. It will be important for parents of those children in nursery or children's ministry to pick their children up at 7:30PM.

___________________________________