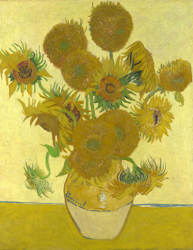 Vincent Van Gogh, Sunflowers 1888

"A Surprising Gratitude: The Emergence of Faith, Love and Hope in Thessalonica"
"The purpose of 1 Thessalonians is for Paul to convey to the Thessalonians how encouraged he is by the good report about them and to deal with other aspects of the news brought by Timothy." - Cara, 1 and 2 Thess. 22-23
Paul writes to express his GRATITUDE for the firm faith of the church and their expression and commitment to brotherly love. At the same time, he desires to see the church grow in holiness and provides information and encouragement concerning the hope we have in the certain and imminent return of Jesus Christ.
"The concern Paul had for this congregation was so overwhelming he decided to send Timothy back to the city to 'strengthen and encourage' the believers in their faith and to 'find out about' their faith...1 Thessalonians was written after Timothy arrived in Corinth to report his findings to Paul...He brought good news of the faith, love, and steadfastness of the congregation despite hardships. - Green, PNTC, 52.