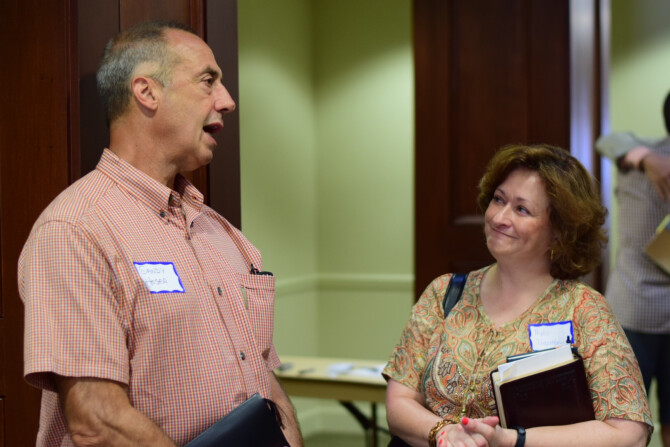 If you have always wanted to have a firm and basic understanding of God's Word, then this course is for you! We approach our study of the Word by seeking to understand how God is building His Kingdom across time and human history. We incorporate the overall outline of the Bethel Bible Series as the backbone of our study, but we expand further by incorporating each book of Scripture.

Our class time is comprised of an hour of lesson presentation followed by about an hour of discussion, Q&A, videos or other means of assisting us to apply what we have studied.
The primary requirement or "homework" will be to read the assigned Scripture before class. Our purpose is to know God's Word...and we accomplish that by spending time meditating on His Word.
Although the course of study is divided into four semesters (Old Testament I and Old Testament II; New Testament I and New Testament II), one may register for any one semester at a time. Although it is ideal to take the courses sequentially, it is not required.
Bethel Discipleship resumes January 8th….
continuing our study of the Old Testament
"All Scripture is God-breathed and is useful for teaching, rebuking, correcting and training in righteousness, so that the servant of God may be thoroughly equipped for every good work." (ESV 2 Timothy 3:16-17)
Why is it important to study the Old Testament?
As one author explains, "Only those who have journeyed through the Old Testament can appreciate the full splendor and glory of the New Testament and fully digest its fruit, and those who have not cannot." (Waltke)
So we will continue our journey through the Old Testament this month. We will examine the books of Judges through Malachi. We will seek to understand each of these books within its historical context…i.e., to whom were the prophets writing and at what point in Israel's history did each prophet minister. God's overarching plan for the redemption of His people progressively unfolds across the pages of Scripture.
Our group study begins on January 8th and continues through May 13th. We meet each Wednesday from 10am till 12N.
Please let us know that you will be joining us. You may register below, contact our church office, or email Phyllis Pemerton at