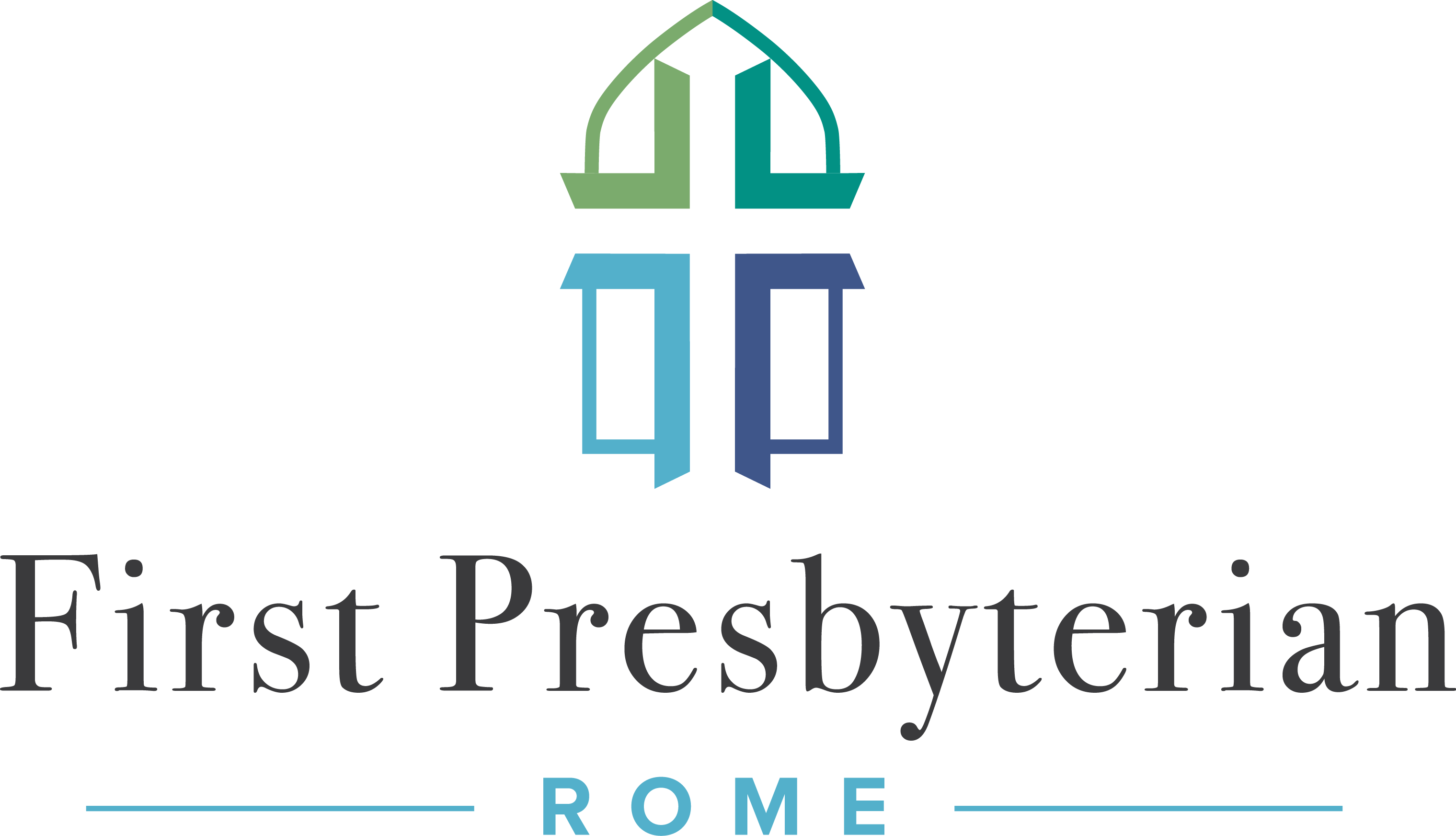 June 18, 2020
Dearly loved friends and family of First Presbyterian, Rome,
From the "Chadwick New Amplified Paraphrase" of Psalm 122:1,
"I have never in my entire life been so glad (giddy, overjoyed, deliriously happy, gob-smacked with pleasure, on cloud nine, tickled pink, happy as a clam, jubilant, euphoric) as when they finally spoke those words unto me that I have been longing with every ounce of my being to hear, "Let us go into the house of the Lord!"
That's right… this Sunday morning, June 21, our plans are to resume gathered worship with two separate services, one at 9 am (Classic in the Sanctuary) and another at 11 am (Convergent in King Hall), while also live streaming both services each week. So, we will be worshipping as one church family with some gathered physically at the church building and others still actively participating in worship remotely. We know that all of us are eager to be back together for worship physically… we've missed each other, haven't we? But we also know that some are ready for that to happen now, while it is not yet wise for some to do so, or that all do not yet feel comfortable taking that step.
In preparing to return again to gathered worship on site we have sought to continue to fulfill our church's goal of "worshipping God with Gospel-driven passion and integrity" in a way that is prudent, safe, and balanced, taking into account the current issues we face locally and nationally. The attached information, prepared by our Moving Forward Team and approved by our Session, gives great detail about what you can expect if you do choose to attend a gathered worship service, and how to prepare well for that time.
I know we all remember the story of Goldilocks and the Three Bears. In it, we find Goldilocks in the home of the three bears, trying out things in their home to see how they feel to her, concluding with trying out their beds. You'll remember that the first bed was too hard, then the second was too soft. Finally, she nestled down in the third bed and said it was "just right".
As you read through the attached plan for resuming gathered worship, we pray that we will each be able to trust that this carefully prepared and prayed over plan is "just right" for this body of believers at this unique current moment. But, realistically, we are well aware that some will feel it is "too hard" on precautions, while others will feel it is too soft on protective measures. Certainly, all of us will find that things on Sunday mornings are different than we have ever known, and many of us will find them to be inconvenient, at the least.
With that diversity of opinion in mind, my beloved sisters and brothers, I would share my heart that I long for us as this body of believers to rise up in this God-given moment and shine as the Church of Jesus Christ! As we enter this next step in our journey may we see this as a wonderful opportunity to model for each other, and to a watching world, what it means to be faithful, fruitful followers of Jesus Christ. As you become familiar with the logistics of resuming gathered worship, I urge you to keep in mind that the way we walk the journey is as important as its end goal, and that the way we choose to conduct ourselves as we travel this path is crucial to arriving at our destination well. How we as Christ's body reflect Him along the way, loving each other and our community well through voluntary sacrifice and willingly embraced inconvenience is a critical foundation for the worship which is the very essence of why we are gathering in the first place.
So, when you arrive on Sunday and a sign urges you to assess certain things about your recent health and a friendly greeter meets you at the designated door with smiling eyes twinkling over their masked face and squirts hand sanitizer on your palm, may you see that as a true act of welcome and concern for your well-being, along with the well-being of all around us and of the community to which we will return after worship. As an usher leads you to the seat(s) carefully chosen by them to maximize the number of people we can safely accommodate in the Sanctuary or King Hall, please grin under the mask you have chosen to wear for the good of the whole and say "thank you". When we stand to lift our voices to the Lord in song and you are reminded that masks are required if you choose to sing, ask the Lord that your heart might truly rejoice that we are once again able to raise our voices in song together, while providing the safest environment we can for all who have gathered with us and with whom we will come in contact throughout the week.
To be very honest, I wish we didn't have to think about any of these things… it is exhausting for all of us, isn't it? As I'm guessing you do as well, I long for former days when none of this had to be taken into consideration, and I do look forward to times to come when they may again be able to be put aside. But I pray that we will not simply trudge forward trying to "make it through" these times, seeing them as obstacles to the full expression and practice of our faith. Instead let us embrace the challenges in front of us and seize the opportunities they bring to express our faith in Gospel witness, to learn more about the true heart of worship and the life-giving impact of the fellowship of the believers, and to be formed and fashioned through the crucible of challenge and change to look more and more like Jesus.
I am so grateful to be your partner in Christ's service.

Pastor Jeff