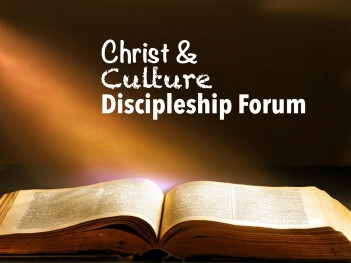 "Practical Actions for Believers in Today's Culture"
January 2022
______________________________________________________________
The Adult Discipleship Ministry Team sponsors this forum each year to help equip God's people for the work of
ministry in an ever-changing cultural landscape.
The church has had a complex history over the last 2000 years, and so has human culture. We hope to explore how we have arrived in the year 2022 and what God would have us do in the time and place he has put us. As members of the body of Christ, we have unique opportunities for evangelism, service, and discipleship both within the church and without.
Last year we strove to think rightly, but now it is time to act rightly. Come with us on a journey through practical applications of the Gospel that cause us to be tactically mobile and strategically impactful in our homes, our church, and with unbelievers.
_____________________________________________________
Schedule
January 5, 2022 6 pm - 7:15 pm Authentic Table Discussions; "Evangelistic Actions to Unbelievers"
January 12, 2022 6 pm - 7:15 pm Guest Speaker: Brian Salter; "Discipleship Action in the Home"
January 19, 2022 6 pm - 7:15 pm Guest Speaker: Scott Sauls; "Service Action in the Community"
January 26, 2022 6 pm - 7:15 pm Guest Speaker: Stephen Nichols; "A Cultural Look at the Church"
*A special 'thank you' to Mrs. Nell and Mrs. Andrea and their staff/volunteers! Our programs on these 4 Wednesday nights will begin earlier and run a bit later. It will be important for parents of those children in nursery or children's ministry to pick their children up at 7:15PM.
Each session will be hosted in King Hall at First Presbyterian Church, Rome, GA.
Recordings will be posted to our webpage the following day.
___________________________________