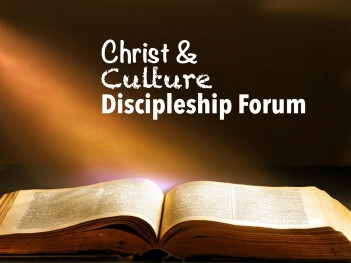 "Christianity & Same Sex Attraction:
How the Gospel Compels Us to Engage Sexual
Sufferers & Sinners with Compassion & Conviction"
January 2020
______________________________________________________________
The Adult Discipleship Ministry Team sponsors this forum each year to help equip God's people for the work of
ministry in an ever-changing cultural landscape.
There are many way in our day and age where the cultural values of society collide with the deep convictions of the Christian faith. Instead of seeing this as a threat to the Christian mission, we believe this to be an opportunity for greater engagement in the mission. Our call, as followers of Christ, is to be separate from culture but not isolated from it. Our hope is that believers in the 21st century will be radically different and radically identifiable as they seek to impact the world around them with the good news of the Gospel.
"I've gotten into the habit of praying for stuff that I know I can pull off if God doesn't. Call it fear or call it unbelief, both are insufficient.
It's time to pray for mountains to move instead of anthills. It's the impossible stuff that's hard to pray but easy for God to do."
- Jackie Hill Perry, artist, sexual suffer redeemed out of a lesbian relationship
The mercy of Christ for sufferers and sinners models Gospel Engagement. How does the Gospel Compel us to Engage Sexual Sufferers and Sinners with Compassion and Conviction?
Through this year's Christ & Culture Discipleship Forum, we want to let the Spirit and the Word continue to shape our thoughts, desires, and actions as we seek to relate with people who are wrestling with or have surrendered to same-sex attraction. The discipleship forum will take place on Wednesday nights in January and will feature keynote speakers, panel discussion, and seminars.
_____________________________________________________
Schedule
January 8, 2020 6 pm - 7:30 pm Panel Discussion A panel discussion featuring member of FPC, Elders, and Pastors
January 15, 2020 6 pm - 7:30 pm Guest Speaker: Mr. Cooper Pinson; "Same Sex Attraction in the Home"
January 22, 2020 6 pm - 7:30 pm Guest Speaker: Dr. Sandy Wilson; "Same Sex Attraction in the Church"
January 29, 2020 6 pm - 7:30 pm Guest Speaker: Dr. Blair Smith; "Same Sex Attraction in the Community"
*A special 'thank you' to Mrs. Nell and Mrs. Andrea and their staff/volunteers! Our programs on these 4 Wednesday nights will begin earlier and run a bit later. It will be important for parents of those children in nursery or children's ministry to pick their children up at 7:30PM.
In addition to the Wednesday Night discussions, each guest speaker will offer a more focused,
in depth small group seminar either the day before or the day after the large group talk.
These will be held sometime between 9am and 12 noon and will last approximately one hour in length.
Please look for more information to come in the following weeks.
___________________________________
If you would like to attend any or all of the nights listed above, please contact Sarah Pope in the church office at 706-291-6033; email