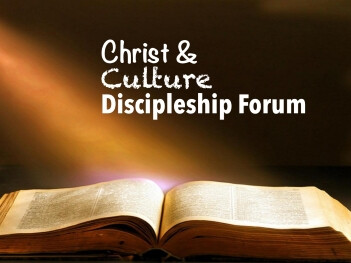 "Fighting for Joy in Christ
In a World of Depression and Anxiety"
January 2019
______________________________________________________________
The Adult Discipleship Ministry Team sponsors this forum each year to help equip God's people for the work of
ministry in an ever-changing cultural landscape.
There are many way in our day and age where the cultural values of society collide with the deep convictions of the Christian faith. Instead of seeing this as a threat to the Christian mission, we believe this to be an opportunity for greater engagement in the mission. Our call, as followers of Christ, is to be separate from culture but not isolated from it. Our hope is that believers in the 21st century will be radically different and radically identifiable as they seek to impact the world around them with the good news of the Gospel.
This year we explore the challenges that we face as we fight to maintain our joy in Christ...
with a broken world and within our own brokenness.
Just in the last decade, there has been a rapid increase of depression and anxiety. We can all recognize that in a world of grief, stress, disease, and brokenness, we have much to be anxious and depressed about. But as Christians, we have a secure hope that presses us into a deep joy that no present reality can unhinge. The church, therefore, should be the most influential and safe place for anyone suffering with depression and anxiety. As a church, we will stretch our understanding to the reality of our fallen bodies and minds, and rest our hearts in the promises of a God that meets us in the valleys of our depression and anxiety. For the Christian, spiritual joy is a companion to suffering that must be pursued. After all, this is the "already, but not yet."
______________________________________________________________
Schedule
January 9, 2018 6 pm - 7:30 pm Guest Speaker: Dr. David Murray; "Christians Get Depressed Too:
Hope and Help for the Depressed"
January 16, 2018 6 pm - 7:30 pm Guest Speaker: Dr. Tim Lane; "Unstuck: A Nine-Step Journey to Change that Lasts"
January 23, 2018 6 pm - 7:30 pm* Guest Speaker: Dr. Ed Welch; "A Community for the Depressed and Anxious:
Restoring Counseling to the Local Church"
January 30, 2018 6 pm - 7:15 pm Panel Discussion A panel discussion featuring member of FPC
*A special 'thank you' to Mrs. Nell and Mrs. Andrea and their staff/volunteers! Our programs on these 4 Wednesday nights will begin earlier and run a bit later. It will be important for parents of those children in nursery or children's ministry to pick their children up at 7:30-7:35PM.
______________________________________________________________
If you would like to attend any or all of the nights listed above, please contact Sarah Pope in the church office at 706-291-6033; email ; or fill out the below.