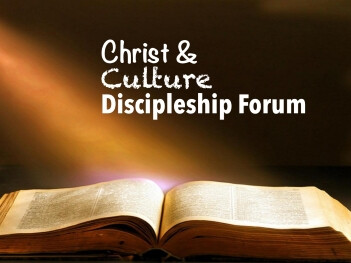 "Life and Faith in the Digital Age:
Grasping Opportunities, Discerning Risks"
January 2018
______________________________________________________________
The Adult Discipleship Ministry Team sponsors this forum each year to help equip God's people for the work of
ministry in an ever-changing cultural landscape.
There are many way in our day and age where the cultural values of society collide with the deep convictions of the Christian faith. Instead of seeing this as a threat to the Christian mission, we believe this to be an opportunity for greater engagement in the mission. Our call, as followers of Christ, is to be separate from culture but not isolated from it. Our hope is that believers in the 21st century will be radically different and radically identifiable as they seek to impact the world around them with the good news of the Gospel.
This year we explore the opportunities and the risks that we face with digital technology.
Our first guest speaker, Ra McLaughlin, will help us to see some of the wonderful ways we can leverage technology to advance the Kingdom of God. Ra will discuss the exciting kingdom work being done by Third Millennium Ministries.
Our second guest speaker, Walt Mueller, will help us to understand how technology is changing us and our children. Walt will introduce us to the valuable ministry of The Center for Parent/youth Understanding.
______________________________________________________________
Schedule
January 10, 2018 6 pm - 7:15 pm Guest Speaker: Ra McLaughlin VP of Creative Delivery Systems;
Third Millennium Ministries
January 17, 2018 6 pm - 7:15 pm Panel Discussion: Four members of our church and one of our pastors
discuss the issues
January 24, 2018 6 pm - 7:30 pm* Guest Speaker: Walt Mueller Founder and President,
The Center for Parent/ Youth Understanding
January 31, 2018 6 pm - 7:15 pm Small Group Discussion All participants will engage in small group discussions related to
the challenges and opportunities associated with digital technology
*please note that on January 24, our program will run longer. We anticipate a time of Q&A after Mr. Mueller's talk; this will extend our meeting time until 7:45 for those who can stay. However, parents of nursery-age children will need to pick their children up by 7:30.
______________________________________________________________
If you would like to attend any or all of the nights listed above, please contact Sarah Pope in the church office at 706-291-6033; email ; or fill out the registration form.